<![if !vml]>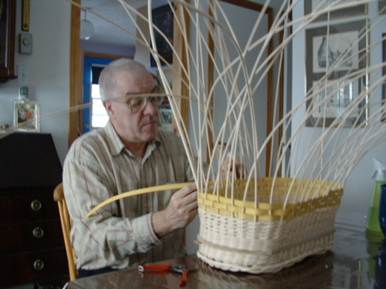 <![endif]>
JOHN TOFT, BASKETMAKER
John first learned about basket making as a child in craft classes at elementary school in England. There, he and his twin brother, became so engrossed in making a basket that the school almost ran out of cane supplies! In previous years no children had taken this craft seriously so little material was used. The twins made a large basket that their elder sister later was to use as a sewing basket.
Prior to his retirement from teaching in 1998, John pondered about possible interests he could develop in his golden years. In addition to golf and gardening, perhaps he could make baskets as he had done so many years ago. Anne, his wife, bought him a book on basket-making that Christmas. So his craft-making odyssey began. Over the years John has puzzled over the languages of basket-making. English basket-making terms and American terms conflict in his mind. John, primarily self-taught, has learned much by trial and error.
For years he used rattan cane as his basket-making medium. Then he was introduced to willow. Thus began a love affair with willow as a home-grown, supplementary raw material.
John moved from Red Lake in North-west Ontario to Kanata (Ottawa) in the fall of 2001. The following spring he began to grow varieties of willow as well as grapevine as part of his plan to turn a hobby into a business. John sells his baskets at various art shows and Studio Tours in the Ottawa region.
Purchases of Johnís baskets may be made at his home studio in Kanata and the art shows.